Measuring Refractive Index
ACW reports the refractive index (RI) of many adhesives and coatings.  In all cases, we report the RI of cured film which generally is 0.01 to 0.03 RI units greater than that of the uncured resin.  Our measurements are usually made on 25 micron thick films, although a thicker film can be used when the 25 micron film is too fragile to be transferred readily.  RI is not dependent on film thickness in the method we employ.  RI is dependent on temperature, and we control temperatures with a circulating water bath.
RI can be measured by different instrumental techniques, but we always report data from a multi-wavelength Abbe refractometer.  This instrument provides a direct measure of the RI without solving any equations that contain assumptions or variables.  Measurements are usually taken at four wavelengths, and the data is analyzed using the Sellmeier Equation, typically a one-term equation is employed, to give a function that will provide the RI at any wavelength.  The Sellmeier Equation gives excellent predictions within the limits of the measurements (i.e. in the visible) as one would expect, but it can also be used with confidence at longer wavelengths in the Near IR because RI changes little with wavelength in this region.
The plot below shows typical RI results.  The measured RI values are plotted as the circles, and the fit of the Sellmeier Equation is the line.   In this example, we are comparing the RI of a film that was heated for 1,000 hours at 150 °C with that before heating.  We extended the Sellmeier Equation into the near IR region to illustrate how the RI changes little at longer wavelengths.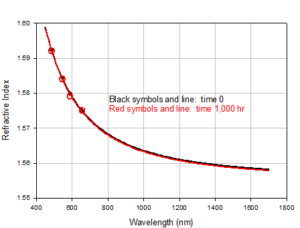 Do you need a custom designed resin?